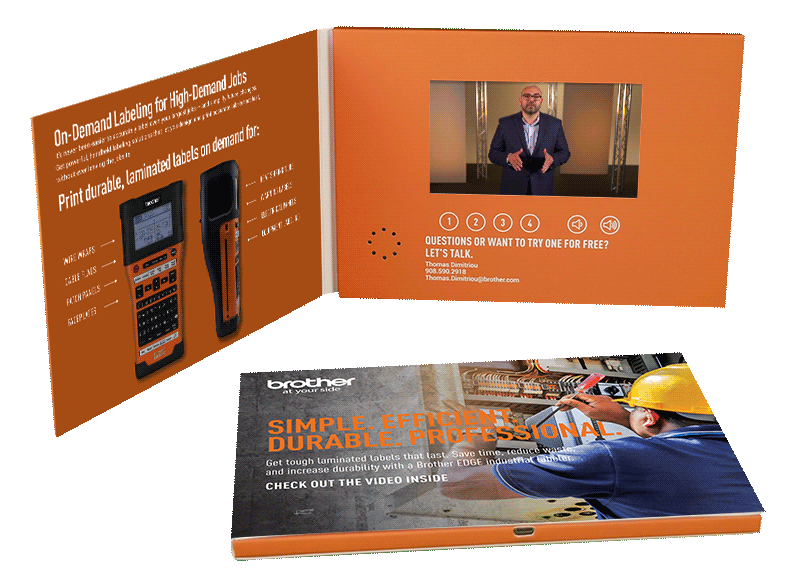 EXPERTS IN VIDEO BROCHURES
Take the work out of getting your video in the hands of your target audience.
Up your game and freshen up your sales arsenal with video brochures that fascinate your buyers and literally speak to your potential franchisee.
Dimensions
4"x6" | 8.3"x5.8" | 9"x6" | 9"x12" | Custom
HD Screen Sizes
4" | 5" | 7" | 10" – 16:9 Ratio
Flash Memory
256MB (5-7 Minutes) – Larger Hard Drives Available
Video Buttons
Play/Pause or up to 4 Chapters + Volume Controls
AN EXTREMELY POWERFUL TOOL FOR MORE SALES
64% of consumers are more likely to buy a product or services after they watch a video about it.

People retain almost 95% of a video message compared to 10% of what they read in text.

Video brochures are more impactful as physical touch and experience engages more senses.

Print plus video are the most effective mediums driving sales, increasing brand awareness and thus yielding 50% more conversion rates.

Video brochures improve a company's image by almost 75%, plus create an impression that resonates for months.
WHAT DO VIDEO BROCHURES COST?
Video brochure cost starts at $14/card on orders of high quantity, but expect to pay more the bigger the screen size is.
Get Instant Access to Our Digital Pricing & FAQ Catalog!
Complete the form below to get instant access to our unpublished competitive pricing along with configuration options, FAQs, and easy estimate system. All inquiries receive personalized service and white-glove treatment.
Get Instant Access to our Pricing & FAQ Catalog!
Please complete the form below to receive everything you need to know in 1 PDF deck. We look forward to discussing your project with you!
Other Video In Print Solutions